WELCOME TO A BREAKTHROUGH IN FITNESS PERFORMANCE.
Beachbody Performance is your all-in-one system of powerful supplements, designed to give your body what it needs to break through obstacles and take your fitness to the next level. No more struggling through workouts for average results – it's time to unleash your most extreme body transformation – the right way. Beachbody Performance products are formulated with key ingredients to help you have:*
Blast through your toughest workouts with a surge of energy!
Take Energize before every workout to help sharpen your focus, push harder, and last longer – because every ounce of extra energy means better results. Energize contains key ingredients scientifically shown to delay exercise – induced muscle fatigue, improve performance, and help you push with maximum intensity.*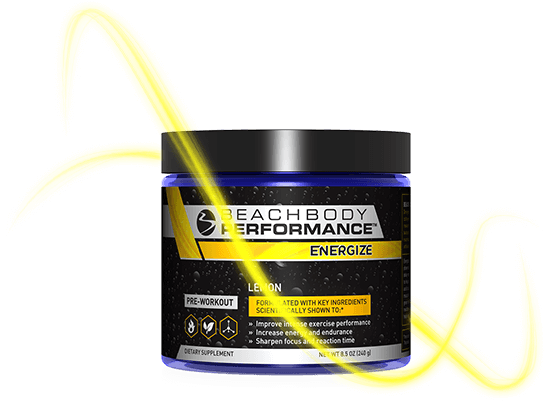 Boost hydration during your workouts for outstanding performance.
Typical sports drinks have too much sugar and artificial ingredients that can actually dehydrate you. And water alone doesn't effectively hydrate during exercise or replace what you lose through sweat. Hydrate gives you an optimal balance of carbohydrates, electrolytes, and water to quickly replenish what's lost, helping you work out longer and feel better.*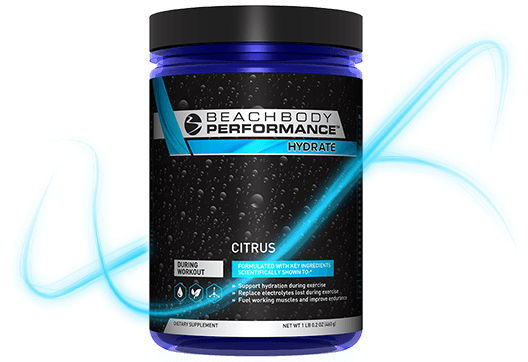 Reduce muscle soreness from exercise and jump-start recovery so you can come back stronger.
Take Recover after every workout to help combat exercise-induced muscle soreness, speed muscle recovery, promote muscle growth, and restore your strength. It maximizes the critical post-workout window time with time-released proteins and phytonutrients to help you recover from your workout faster – and hit the next one that much harder.*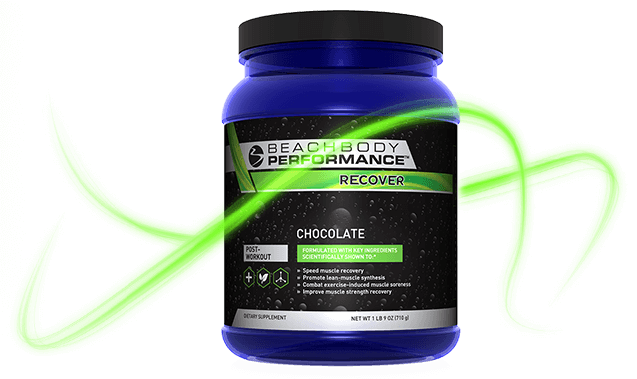 Help accelerate recovery and promote muscle growth while you sleep.
Recharge is specially formulated to accelerate recovery, combat exercise-induced muscle soreness, and promote new muscle growth when your body is primed to accept it – while you sleep! Slow-release protein, amino acids, and powerful phytonutrients combat muscle breakdown, help promote lean-muscle synthesis, and reduce exercise-induced muscle soreness.*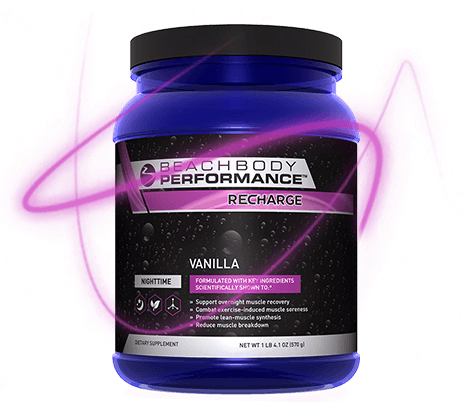 Hammer out more reps, help boost muscle strength and power, and blast through high-intensity exercise.
Take Creatine for extra strength that can turn your last rep into the second or third last rep. It's scientifically shown to help boost muscle strength and power, improve high-intensity performance, and enhance the effects of resistance training. This is the purest, safest, and most effective form of creatine in the world.*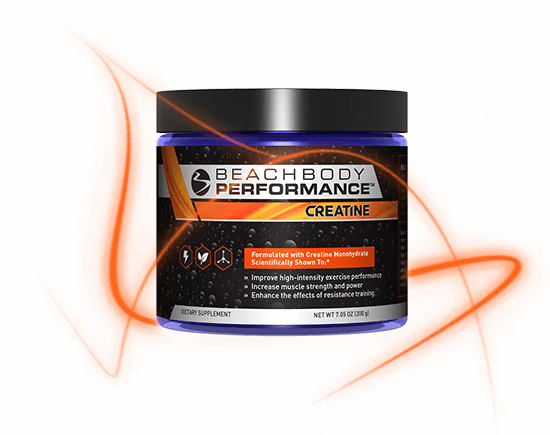 WHAT'S HOLDING YOU BACK?
BEACHBODY PERFORMANCE CAN HELP.
PERFORMANCE STACK
Energy & Muscle Recovery
Power up your performance and get a jump start on recovery with the Performance Stack. It includes two crucial formulas—Energize and Recover – to help give you more energy, sharpen your focus, improve your performance, and speed recovery. With this stack, you'll be on your way to a better body in no time.*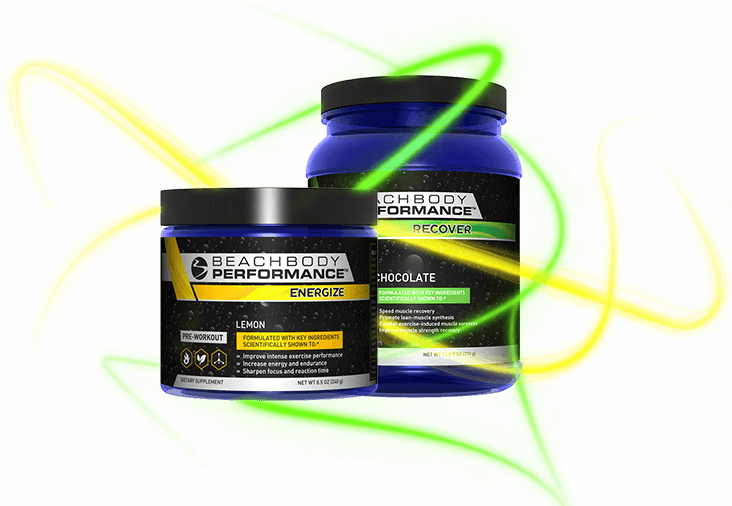 ADVANCED PERFORMANCE STACK
Energy, Hydration, & Advanced Muscle Recovery
Get that lean, toned body faster than you ever thought possible with this elite training stack for major body-shaping results. This stack includes 4 formulas so you can shatter your personal limits while helping you charge harder, last longer, perform better, and recover sooner.*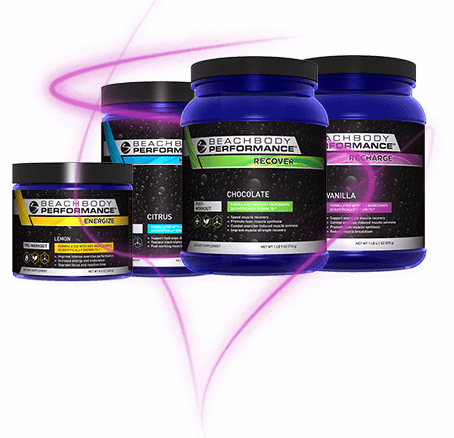 ULTIMATE PERFORMANCE STACK
Energy, Hydration, Total Muscle Recovery, & Muscle Building
Unleash your most extreme body breakthrough with the all-in-one system for truly epic muscle-building results. This stack gives you 5 performance supplements for incredible training intensity, strength, endurance, and recovery to help propel your physique to the next level.*

CHECK OUT THESE RESULTS
WITH BEACHBODY PERFORMANCE
Markhum S.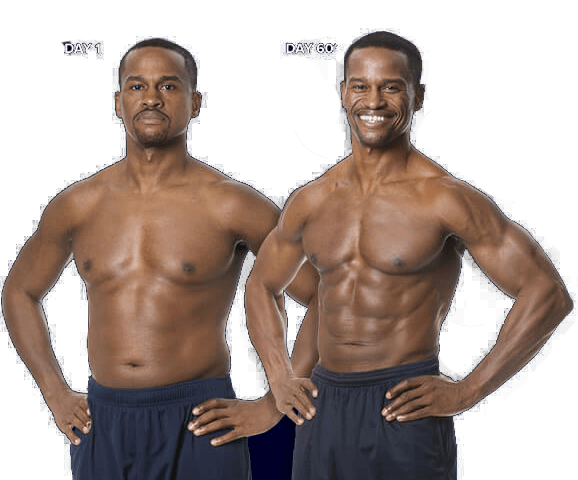 Age: 44 / Actor, Writer
"I have to say that I was 100% skeptical of any type of supplement. I was prepared for it to be total malarkey, but this stuff works. I didn't expect my obliques to show up so quickly. I've seen them before, but it usually takes me a lot longer to get to the point where they show. Beachbody Performance helped me go from good to great!"
Lost: 17.5 lbs.
Lost: 38.7% of his body fat
Used: Beachbody Performance + 21 Day Fix
EXTREME®
Beth W.
Age: 40 / Project Manager
"With the Beachbody Performance system, I feel stronger and it's helped my endurance through my workouts. Now I'm using weights I
never used before because I did
n't thi
nk I could. I feel like I have more energy. I can't take anything for muscle soreness because I'm allergic to aspirin and ibuprofen. Beachbody Performance Recover has helped me with that, and now I'm able to go into another workout and feel like I can do it."
Lost: 14 lbs.
Lost: 33.1% of his body fat
Used: Beachbody Performance + 21 Day Fix EXTREME®
"PERFORMANCE" ISN'T JUST A WORD.
IT'S A CHALLENGE TO YOURSELF.
JIM PALMER
Ironman Finisher
Beachbody Employee
"Beachbody Performance is a key part of my training routine. I notice that the day after training, I'm not as sore and don't have as much muscle fatigue as I used to. This is the treat I look forward to. The taste is great so I feel like I'm cheating a little bit after working so hard."
THE TOUGHEST ATHLETES DEMAND BETTER RESULTS.
DENIS FAYE
Competitive Cyclist
Beachbody Employee
"Keeping your nutrition on track is crucial for any serious endurance athlete. Beachbody Performance doesn't just help me hammer out a 200-mile Saturday sufferfest. It also helps me get up Sunday morning and do it all over again."
SWIM 2.4 MILES. BIKE 112 MILES. RUN 26.2 MILES. BRAG FOR THE REST OF YOUR LIFE.
IRONMAN is one of the leading sports brands in the world with 180 events in over 20 countries. Started in 1978 in Honolulu, the first IRONMAN TRIATHLON pitted 15 athletes against each other in a grueling event that combined a long-distance swim, bike race, and marathon. Today, IRONMAN competitions span the globe, with thousands of world-class athletes testing the limits of their physical toughness and mental strength. The belief is simple: anything is possible. IRONMAN is about persevering, enduring, and being part of something that brings together athletes and competitors who want to push beyond boundaries and go the distance.